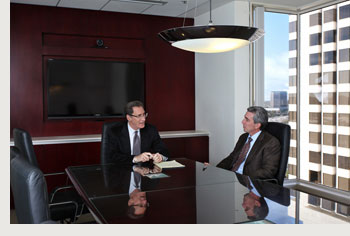 With a long and varied history spanning all manners of real property practice, Paul Weinberg is ideally suited to assist in resolving real property mediation disputes.
Throughout his career, Paul's focus on real property matters has afforded him specialized insight into the problems that arise in breach of real estate purchase contracts, disputes in real estate partnerships, easement, neighbor and boundary disputes, and homeowner association-related view-block and aesthetic issues.
With strong people skills and a warm, empathetic personality, Paul brings a unique perspective to sensitive issues. His understanding of the emotional and psychological issues that can arise in litigation has deepened and rounded his experience in resolving all manner of conflicts Paul has also successfully mediated many probate cases over the years; he has found through his life experience that mediation can frequently solve probate disputes with far less damage to the litigants. It's important to Paul to be able to in assist with preserving relationships, potentially lessen legal costs and explore alternative resolutions by finding a cooperative, amicable resolution for the parties involved.
Paul trained at Pepperdine University School of Law's renowned Strauss Institute of Dispute Resolution, in the intensive comprehensive program, as well as at University of California Irvine. He regularly maintains his knowledge by attending seminars, continuing education classes, and workshops in both real estate law and real estate practice.
Paul is experienced at handling business disputes, along with trust and will-litigation issues, having handled multi-party trust litigation and disputes between relatives over provisions in trusts and wills and related bequests.
© 2022 Paul Joseph Weinberg. All rights reserved. Paul Joseph Weinberg Law Offices Irvine, CA 949.553.0500 office@pjwmediation.com