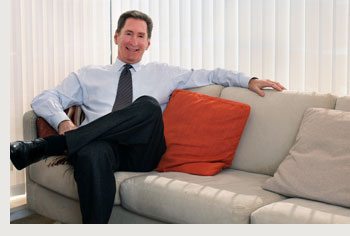 Somehow Paul knew what he wanted to do at an early age. Coming from a long line of attorneys (both his parents and all his siblings practice law), perhaps it was his destiny to follow suit. But Paul also had a love for buildings and the land. So real estate law presented a natural career path.
Ever since he entered law school, Paul has been involved in real property law. He earned his real estate license in 1976 while still in school, and founded his practice in 1979. After earning his license, Paul spent more time learning about construction. His mentors included real estate title officers, licensed surveyors, architects, civil engineers, and general contractors.
As an instructor, Paul moderates continuing education panels. He also taught civil trial practice at the University of California's Hastings College of Law, and currently teaches Real Estate Transactions the University of California, Irvine School of Law and the University of California, Irvine's Merage School of Business as a member of their adjunct faculty. Paul is a graduate of the University of California San Diego and the Jesuit law school, University of San Diego.
Paul has spoken before numerous groups and presented at national conventions for the American Institute of Architects. His articles have been published in West's Zoning and Planning Law Report a national magazine published by the world's largest legal publisher, Thompson Reuters, as well as the University of California's Continuing Education of the Bar and the national online law magazine, Law360.
With over 26 years as a real estate litigator and 17 as a transaction lawyer, Paul Weinberg is well- versed in problem solving, as well as guiding projects through entitlement, negotiating and drafting agreements, and working with lenders in a variety of California real estate transactions. Paul has also developed a successful mediation practice over the past 24 years, specializing in business and real property disputes, partnership disputes and dissolutions, real estate purchase and sale contract disputes, disclosure, construction defect, and probate matters.
Paul's passion for architecture extends to donating time to the American Institute of Architects (Los Angeles and Orange County chapters) and the Society of Architectural Historians.
© 2022 Paul Joseph Weinberg. All rights reserved. Paul Joseph Weinberg Law Offices Irvine, CA 949.553.0500 office@pjwmediation.com